The benefits of adjustable double layer clothes drying rack
Nov. 03, 2017
1.Easy to movw around: 4 omnidirectional smooth rolling wheels (2 with locking brake) allow the rack a graceful movement from one place to another without further need to offload it.
2.Additional storage: the collapsible rack has double rails that are extendible at both ends to hang more clothes; on the sides, extra bars to hang your accessories such as umbrellas and on the bottom the rack can keep boxes.
3.Multifuctional: this compact, sturdy and beautiful in design iron garment rack can be used for many different situations, at the laundry room to dry your clothes, as a seasonal spare closet to keep your favorite clothes at home.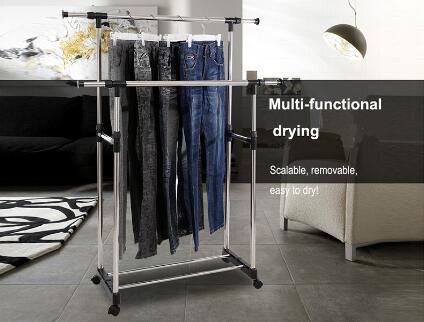 If you like our adjustable double layer clothes drying rack, as a China clothes drying rack manufacturer, we can give you a competitive quotation.